There's so much going on at TCHFH this time of year!  In the midst of your turkey eating, holiday shopping, and general hustle and bustle, mark your calendar and use the following link to lace some philanthropy into your busy days:
Amazon Smile: Use Amazon Smile for your holiday shopping and Amazon will make a donation to TCHFH each time you make a purchase!  Click the link once, connect your account to Habitat, and each time you shop you'll automatically be helping Habitat at the same time.  Now that's an easy way to do good!
Global Village Info Session: Join fellow Habitat volunteer, Kristen Brennan, for an open information session about taking a Global Village trip to El Salvador in March 2015!  We'll talk about the trip itinerary, travel and insurance, what it's like to build in El Salvador, weather conditions, health and safety concerns and more.  Plenty of time for questions, too!  Get your Global Village 101 – space is limited, and this opportunity is once in a lifetime!  Thursday, December 4th, 6:00 – 7:00 PM, Borg Warner Room, Tompkins County Public Library
Ithaca Alternative Gift Fair: Once again, we've got a spot in the Ithaca Alternative Gift Fair!  If you're out and about on Saturday, December 6th, stop by the First Presbyterian Church of Ithaca and make a donation to Habitat as a holiday gift.  Charitable contributions make great gifts for teachers, friends, colleagues and hard-to-shop-for family members.  You can donate the dollar amount of your choice and you'll walk away with an attractive gift card to present to your recipient, too!
3rd Annual Cookie Walk: There's no better kind of walk than a Cookie Walk! Join us to partake in one of the largest selections of homemade holiday cookies you'll find anywhere – 80+ varieties last year!  Come early for the best selection and fill a box for your friend, neighbor, teachers, mail carrier… or yourself!  Let us sweeten up your holiday table for just $7.00/lb.  Interested in baking?  Email info@tchabitat.com or call 607-844-3529  Share our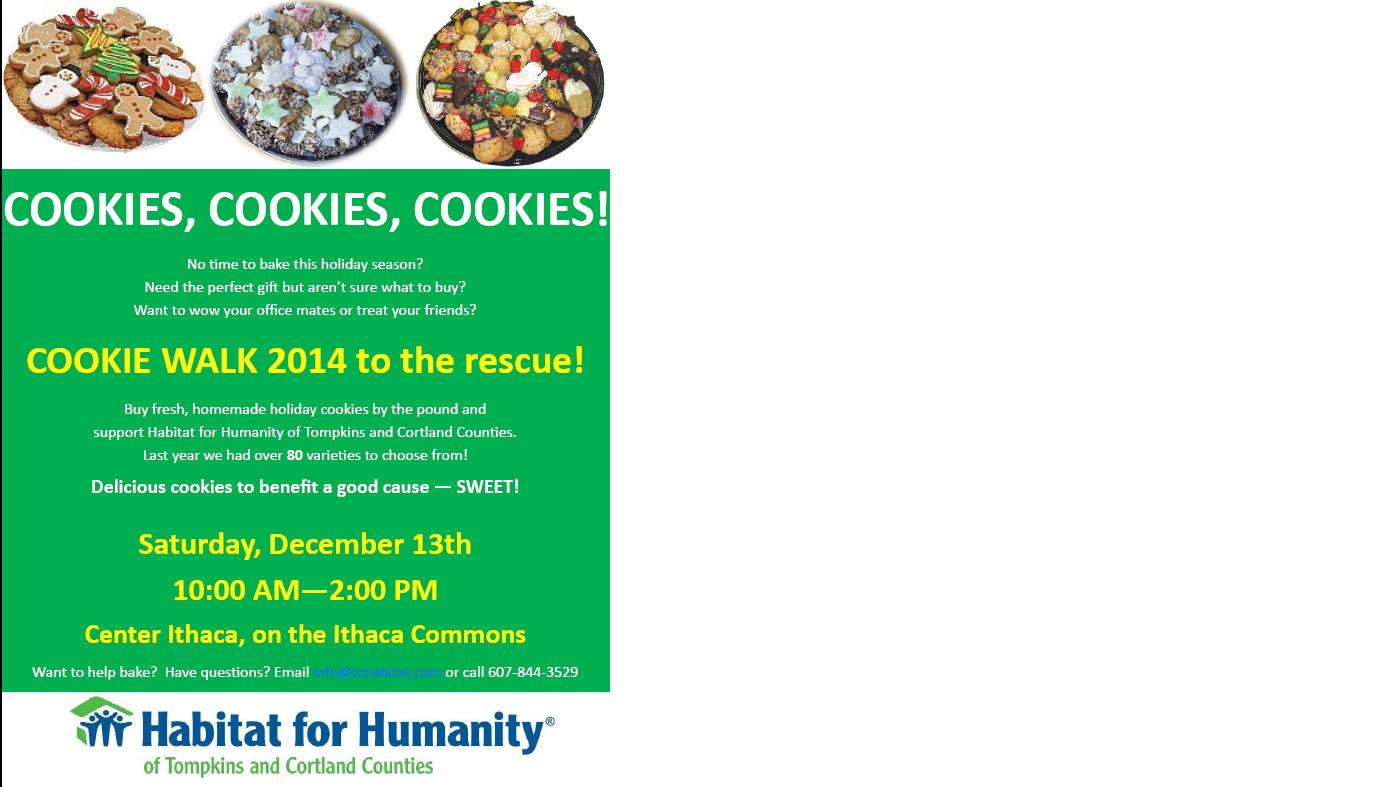 Cookie Walk flyer, too!