Our vision: A world where everyone has a decent place to live.
Our mission: Together with our communities, Habitat for Humanity of Tompkins and Cortland Counties puts faith and love into action by building homes and hope.
About Habitat for Humanity
Habitat for Humanity of Tompkins and Cortland Counties is an affiliate of Habitat for Humanity International, a global, nonprofit housing organization working in nearly 1,400 communities across the United States and in approximately 70 countries around the world. We build strength, stability and self-reliance in partnership with people and families in need of a decent and affordable home.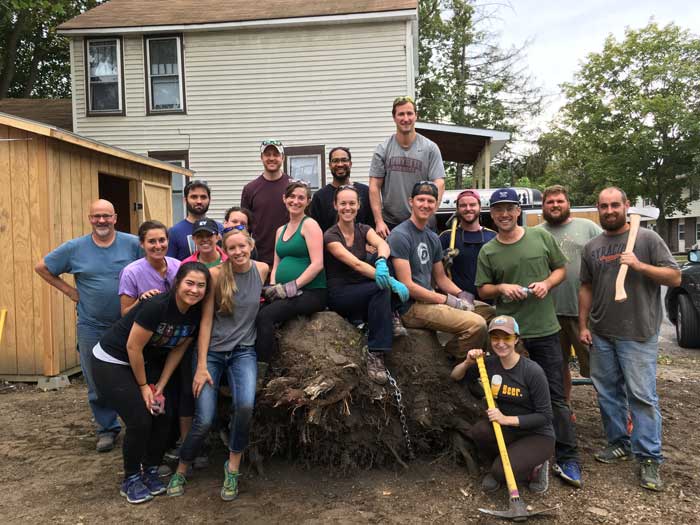 Habitat for Humanity of Tompkins and Cortland Counties partners with first-time homebuyers in our community to help them build or improve a place they can call home.
Habitat homebuyers invest "Sweat Equity" hours by working alongside our volunteers to build their own home or the homes of other Habitat families. In addition to construction, homeowners-to-be earn Sweat Equity by volunteering at events, assisting with administrative tasks, and taking financial and homeownership training classes. Children can even help their parents earn Sweat Equity by getting good grades in school.
"What the poor need is not charity but capital, not case workers but co-workers."
– Clarence Jordan, founder of Koinonia Farm, 1968

Upon completion of construction, Habitat homeowners purchase their house and pay an affordable mortgage. These mortgage payments are used to fund construction of more Habitat homes. With your support, Habitat homeowners achieve the strength, stability and independence they need to build a better life for themselves and for their families.
Volunteers of all ages and abilities help build our homes, and we partner with contractors and material suppliers to obtain discounted or donated materials and services, to help keep our construction costs down. Our affiliate is committed to building as energy-efficient and environmentally friendly as possible, while still ensuring that our homes are decent and affordable.
Our History:
Habitat for Humanity of Tompkins and Cortland Counties was founded in 1987 by the Reverend James Cavanaugh of the Groton Community Church. Cavanaugh was inspired by Habitat's work when he helped build some of the first Habitat homes in the early 70's. Later in our founding year, students from Ithaca College formed the first collegiate Habitat chapter in New York State.
Since our inception, we've grown from a small, all-volunteer, grassroots organization into a staffed affiliate serving both Tompkins and Cortland counties. Despite changing times, changing mortgage regulations and changing building standards, our goal remains the same: We are dedicated to eliminating substandard housing locally and worldwide through constructing, rehabilitating and preserving homes; by advocating for fair and just housing policies; and by providing training and access to resources to help families improve their shelter conditions.
All are welcome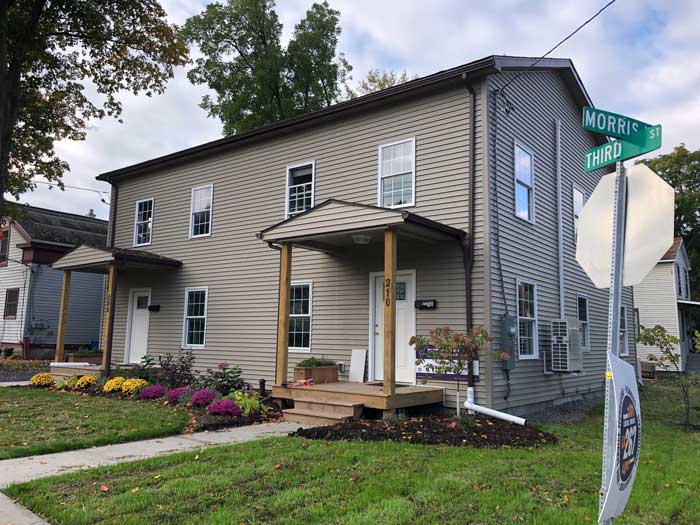 Habitat for Humanity of Tompkins and Cortland Counties has an open-door policy: All supporters who believe that everyone needs a decent, affordable place to live are welcome, regardless of race, religion, age, gender, orientation, political views, or any of the other distinctions that too often divide people.
Habitat for Humanity was founded on the conviction that every man, woman and child should have a simple, durable place to live in dignity and safety, and that decent shelter in decent communities should be a matter of conscience and action for all.
Non-proselytizing policy:
Habitat for Humanity International and its affiliated organizations do not proselytize. This means that Habitat will not offer assistance on the expressed or implied condition that people must either adhere to or convert to a particular faith, or listen and respond to messaging designed to induce conversion to a particular faith.
International support:
For every house TCHabitat builds here, in the United States, we are also committed to supporting Habitat for Humanity International's global mission. Through an annual tithe, we provide financial support and share a portion of our undesignated income to create shelter all over the world. You can learn more about Habitat International's building efforts here.